Let us organise your Hot Air Adventure.
Did you know that Hot Air can get you flying over the Scenic Rim? Yes we can! Book your Hot Air direct with us.
You can now book direct on any Hot Air site to any of our locations Australia wide. Hot Air is very special and unique. As part of the Hot Air family, Hot Air is part of Australia's largest fleet of Hot Air Balloons.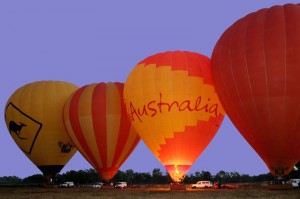 Being located just a short drive from the Gold Coast airport, Hot Air ferries you to the lift off location for the morning. Your driver is very informative and friendly and you will be well prepared to keep an eye out for the very special views that you get soaring above the Scenic Rim.
Then you meet your Hot Air  Pilot. All of our Pilots are highly experienced in flying Australia's widest range of balloons. You will be introduced to your balloon, as every day is different, with a different balloon size, a different breeze etc, and we tailor your Hot Air experience to ensure you get the very best ride and lifetime memories. Our Pilots knowledge, experience and professionalism is on par with what you expect from major airlines. Hot Air maintains the highest safety standards.
After your Hot Air flight, you can either return to your accommodation or choose to visit and spend the day at Mt Tamborine or O'Reillys. Whatever you do, when you are next on the Gold Coast or Brisbane, turn your holiday into an adventure of a lifetime with Hot Air . There just is not a better way to see the amazing Scenic Rim and it's breathtaking scenery then soaring quietly above. We know you will love it. Click Book now to get flying…